Welcome to Gunma! – Thousands of reasons to live in Gunma
2014/12/03
We're going to "Bonen-kai" season in Japan. Bonen-kai, which literally means "a party to forget the year", is a year-end event typically held with company/community members. December is a lovely season. It's a season that streets are filled with Christmas songs, illuminated trees and drunk people.. 🙂
Before I forget everything happened in this year (i.e. year-end hibernation & reset) I gotta write about people I interviewed early this year…
For weekly AsahiGunma published in April, I interviewed Mr. Kyo Oh from Henan, China. He participated the Japanese speech contest for foreign people living in Ota-city, Gunma and won its 1st prize this year.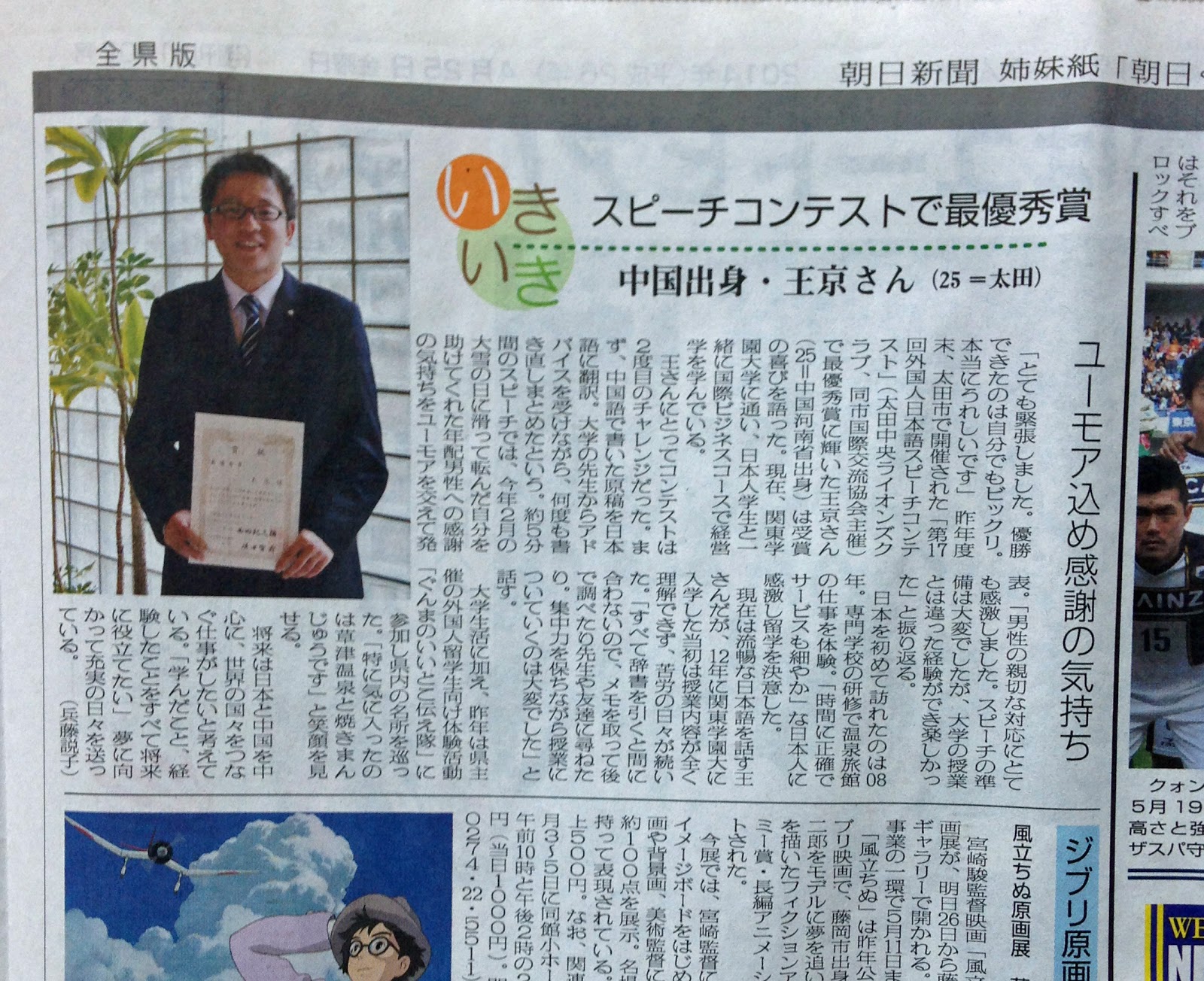 Weekly AsahiGunma (April 25,
2014)
In his speech, he talked about what happened to him when the heavy snow hit Gunma in Feburary (slipped and stuck every steps and elder gentleman helped him.. sounded like a comedy..) and what he thinks about the life in Gunma. 
It was his second time to join this contest and to improve his Japanese and speech skill, he sought some advices from his teachers and friends and revised again and again. He said winning the 1st prize was unexpected but he felt really happy with the result and this experience.
Mr. Oh is currently a student in Kanto Gakuen University in Gunma and learning International Business. After studying there for 3 years he seemed very good at communicating in Japanese, but he said his first year was really tough and spent most of his time looking up the dictionary… 
Though he sometimes misses his family and hometown, he said he now fully enjoys current life in Gunma. Addition to his school life and part-time job, he joined the Gunma's PR project and help promoting its sightseeing spots in his native language. "I want to experience lot of things and make the most of what I've learned here for my future!"
His favorite Gunma spot: Takasaki-city, Kusatsu (Hot spring and Yakimanju)
For weekly AsahiGunma published in July, I interviewed Mr. Damien Robuchon from Sablé, France who is working at Tomioka Silk Mill which was listed as World heritage site in June.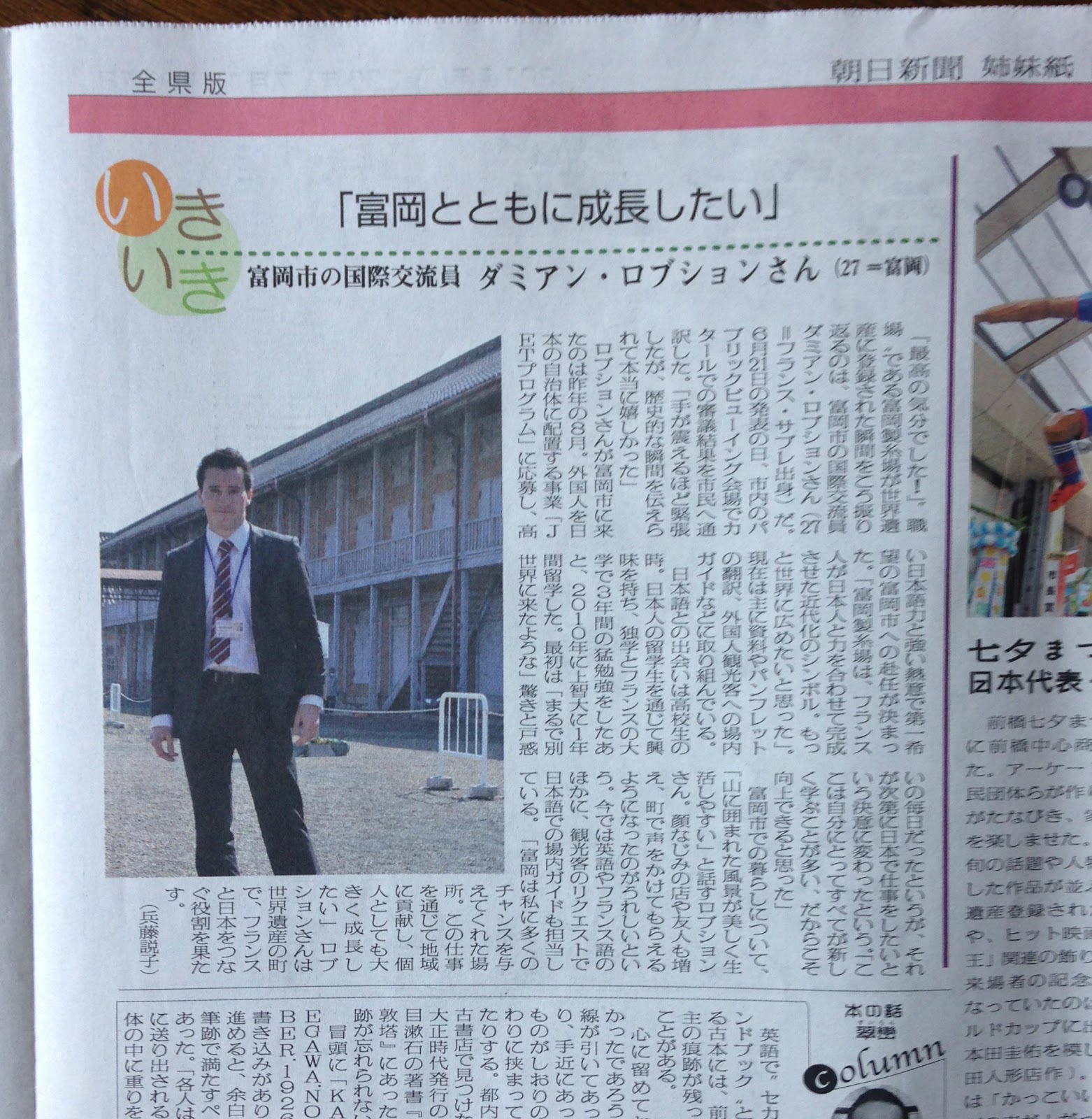 Weekly AsahiGunma (July 18,
2014)
Just to give you a quick and rough guide, Tomioka Silk Mill was built in 1872 with a great help from Mr. Paul Brunat who worked at French trading firm office in Yokohama. This factory was one of the Japan's modernization projects, adopting western way of yarn-making and management style.
Instructors were sent from France and girls from all over Japan were gathered to master its technique so that they can teach and spread when they go back to their homeland.
One of the funny stories I've heard was, locales were afraid of French people because they saw French drink blood.. (wine was really not common in Japan back then 🙂
Mr. Robuchon is its first French employee in 142 years. He started to work there from August 2013 as JET program, translated its website, brochure and reference materials. 
When he found Tomioka city was looking for a French staff for promoting its facilities, he thought "Tomioka Silk Mill is a symbol of collaboration between
France and Japan, there must be something I can do to help them" 
Indeed. Not just promoting it in French and English, because of his knowledge and Japanese fluency, he's requested by the visitors to give a guide tour in Japanese, showing up medias etc… 
On the day of official announcement of World Heritage Site, he was at the public screening venue with Tomioka citizens and interpreted the announcement into Japanese, sharing the joyful moment with them. "Tomioka has given me so many opportunities. I'd like to give back to them through my work and I'd like to grow up as a person"
His favorite Gunma spot: Tomioka Silk Mill (duh.. 
you can book the guide tour in English and French)
Living in foreign country is not always easy. No matter how well you speak their language or understand the culture, we all face obstacles and invisible wall. Probably, the more you have the will to dive and blend in, the more you feel the difference…
As of the end of December 2013, there are 40,593 people from 105 countries living in Gunma. That's 2% of Gunma's population. I had occasion to interview with 2 out of 40,593 but I imagine each of them has different reason to live in Gunma. We often say "En brought you here" for these cases. "en" is a tough Japanese word and often translated as karma or chance… but here I'd say "funny turn of fate"… I mean, what else can we explain? otherwise why the hell are you coming to Gunma..? 😀 Oh, no no, Gunma is good place, nice place, beautiful place. There're a lot of good hot springs, you can have a day trip from Tokyo, ski, practice your Japanese, there's cafe with wi-fi, buildings… 🙂
Whatever the reason is, for those of you who happened to live in Gunma, Welcome to Gunma! Hope you're enjoying Gunma life and Best of luck! If you haven't tried charcoal grilled Yakimanjyu or Yakitori from Torihei, you really should try them pronto.