Little Ballerina
2013/04/21
For April edition of AG (tabloid format of Asahi Gunma), I met and did interview with Miss Airi Igarashi, who participated this year's Prix de Lausanne (International ballet competition held annually in Switzerland).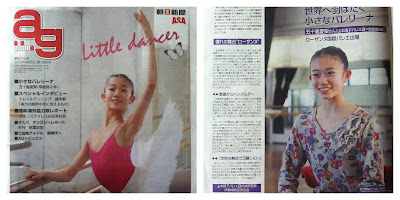 She's on cover!! Thanks for the great photo, Ito-san!

Prix de Lausanne is the dream stage for aspiring dancers around the world. It's often described as "gateway to successful dancers" since quite a lot of current 'star dancers' went through this competition. Not just dancing and competing on the stage, participants get coaching from great dancers. It's a wonderful occasion but as you can imagine, it's not so easy to be qualified…
Miss Igarashi started ballet at age four. Her older sister was taking a class at local ballet school wearing cute costume, and she wanted to join that world as well. At first it was just once or twice a week of fun time, but as she mastered techniques, she was getting serious about it. "I like that sense of accomplishment I feel when I finally mastered difficult steps", she said. By age of 7, she entered Reiko Yamamoto Ballet Institute in Gunma to pursue more, and now she is a boarding student of Tokiwa highschool which is associated with the ballet company. (What does this mean? It means full-time training, my dear. Everyday! Day and night, literally.)
Though she has won many prizes at domestic dance competitions (check her dance from here), Prix de Lausanne was her first competition outside of Japan. "I got very nervous. The stage looked so big that I felt smaller than ever… But when I went on, I decided to try my best and dance as big as I can," she smiled.
Unfortunately she didn't win a prize at the competition, but she received scholarship from prestige ballet school in Germany. It took some time before she accepts it (because she enjoys her current school life) but she decided thinking "it's a great opportunity for growth". Her dream is to become a professional ballet dancer who can dance any role. I hope and believe that her strong will leads her to grand stage in the future. But for the moment let's just wish her for having fulfilling time in new place…
"Ballet" often brings up the image of airy and graceful world where people are all smiling, but behind that flashy stage there's quite grueling workout… I didn't know that fact either until I started to take ballet class some years ago. (I still get sore muscles every time and I don't see any improvement…but I'm trying… or at least I'm enjoying it..)
Most of the professional ballet dancer started it at age of three or four, and they keep practicing and mastering the basic movement of ballet (arm, leg, sight line, posture…) even after they become professional. 

We tend to say "oh, ballerina have a great
figure. I wish I could be like that…" in a casual tone. But well, it's the
result of years and years of effort they made.. And what we can see on the
stage is their fruits of hard work…
It's not about Prix de Lausanne, but there was a movie called "First Position" featuring YAGP, ballet competition held in NY. I think this movie's trailer sums up that world. 
Anyway, it was lovely to see her, and I
feel happy to know that many of hopeful dancers are born from Gunma.. (well,
actually not limited to dancers from Gunma..  I'd like to cheer for all of them with
pompom!)
[Update: 2014.08.21] Ms Igarashi's performance at Lausanne is posted on Youtube. Classical variation is here, Contemporary is here.]
[Update: June 2019] Ms Igarashi has danced with Atlanta Ballet since 2017!