For weekly Asahi Gunma published in last week (June 28), I went around Gunma-ken and checked around "Sora Girls" activity.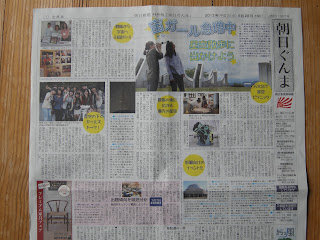 Weekly Asahi Gunma (June 28)
So happy that this feature made the cover…

"Sora Girl" – literal translation would be "Space Girl", is a word emerged from last year or so and it signifies "a girl who is interested in stars and space". (note: "sora" usually means "sky" in Japanese, but here it means "space") But the definition is quite loose; she doesn't need to have solid knowledge or proper telescope. If she's interested in or likes to watch night sky, she's "Sora Girl" 🙂
Along with recent years' astronomical event such as meteor shower or annular solar eclipse, the number of space enthusiasts is increasing in Japan. And, not surprisingly, Sora Girl is increasing as well. (Of course there have been a bunch of female space enthusiast but the word "Sora Girl" made star-watching-activity a trend. You know how it works…)
And, as one of the Sora Girl, I went to see some Sora Girls and their activity, and visited space/stars related facilities in Gunma.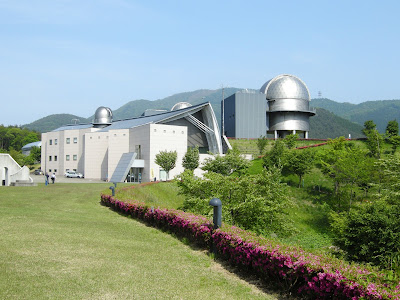 At Takayama village, Gunma-ken
There's "Musical Road" of "When you wish upon a star" on the
way to this observatory. 

Doesn't it look like a space platform? (There are some replicas of ancient monuments in the outside too.) To reach this facility, you have to walk about 10min or so from the parking lot. There's a picture of Pluto at starting point, and we walk towards Sun. But this is really long walk… especially Pluto to Uranus is so far… (so here you can learn the placement of the solar system by walking.) But worth it. This place got unique atmosphere and world-class technology.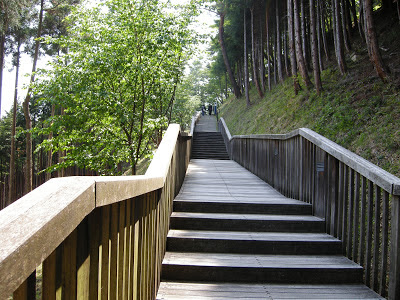 Other than this observatory, my article featured followings:
– "Star Club" at Gunma University
It used to be a small club, but now they have 200 registered members and half of them are girls. According to these Sora Girls, watching stars is a "good way to get rid of stress" and they enjoy having "Girl Talk" under the night sky. (I do agree, night sky is perfect backdrop for deep conversation.)
– Mukai Chiaki Children's Science Museum
Ms Mukai is a Gunma born astronaut, and she's the very first Japanese woman who went into the space. She's the real Space Girl.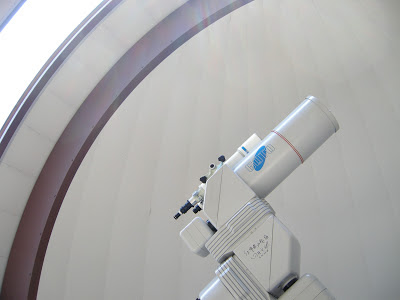 You can see her autograph on the telescope.
"My workplace is in space"
– Star Watching Event in Gunma
One of the things I discovered through this article research was that Best Night Sky season in Gunma or Kanto area is summer. (I always thought it's winter.)
And there are some summer events planned to appreciate Gunma's star-filled night sky from the mountaintop. I heard their "Night Cable Car" makes you feel like you're travelling into space…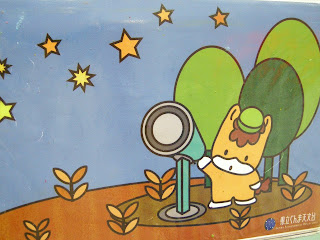 Our little orange pony – Gunma-chan 
– Complete list of Planetarium in Gunma
It's surprising to know that so many of planetariums are creating their own programs. And addition to these "regular programs" they host special event to leverage their facilities… like "Planetarium for mom-to-be" (they project stars and recite some stories with relaxing aroma) and "Planetarium Concert" (live classical music concert while watching the stars…). Oh… this is so good… (I may try to join this mom-to-be event by sneaking a watermelon under my shirt…)
This article was featuring "Space Girl" but I tried to make it enjoyable for "Space Boy" and even "Space Grandma" in Gunma 🙂 Space is for everyone of course!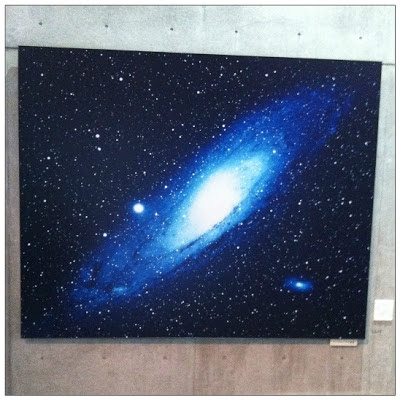 Large photo panel of M31 installed in observatory. 

For the northern hemisphere residents, it's time to check out Milky Way and Great triangle in Summer! If you ever get tired of lights from PC/phone screen, why don't you look up and find the lights beaming from super far away?

Hope you'll have a great night skywalking!