Kosen RoboCon 2012
2012/12/18
Can't believe it's already mid-December… time really flies, now I can see Orion and Cassiopeia in the clear cold sky of Gunma… I'm not trying to be lyrical here, but I recently felt that the starry sky is getting closer than it used to be (comparing to… when I was underage). And possibly this is because we have less lights in our neighbor… that's the sad fact about Gunma-ken, but then you discover that there are thousands of lights above. I was checking Geminids the other day, and I felt 'wow, the sky is crowded…'
(FYI: We have beautiful observatory in Gunma, in case anyone's interested.)
Anyway, the time flew. And 2 months ago, I went to see the regional contest of RoboCon – Robot Contest for Colleges of Technology (aka "Kosen" in Japanese) held in Maebashi, Gunma for my article.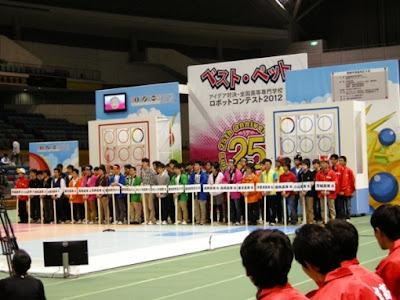 Kosen is technical skill-centered college with 5 year program, which is open for 15yrs old and older. (So students enter Kosen instead of going to usual 3-year highschool.) Currently there are 62 Kosen in Japan and each school sends 2 robots & team to regional RoboCon. And winners of regional contests go to a nationwide RoboCon.
RoboCon is held annually and each contests (regional and national) have been aired on NHK (national TV), therefore it's one of the best known RoboCon in Japan. 
This year's theme is "Best Pet": students are expected to create pet-like adorable robots to collaborate with students. 
Here's what they have to do in the contest:
1. Student guides his robot without touching or using controller.
2. Student picks up balls and loads them to the robot. (Since it's supposed to be "pet", a robot has to express joy when the ball is loaded.)
3. A robot shoots for the goal (there are 9 goals).
They have 3 minutes to complete the tasks. Or if they successfully shoot 9 balls to designated goals, the game is over. It's important to complete all tasks quickly, but the most important criteria is originality of the robot.
What students receive before the contest is only a rule book, filled with detailed restrictions like size and weight of Robots. But why, what shows up in the contest is colorful, fun and original robots. One rule book, 124 different robots! I'm always amazed by this diversity of ideas, technically and visually, and needless to say this is the best part of Robocon.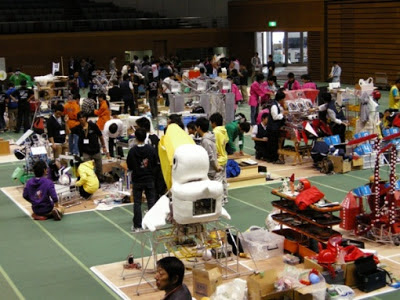 Here's the backstage of
Robocon!!
After the regional RoboCon, national RoboCon was held at the end of November, and this year's "Best Robot" award goes to Oyama Kosen's "Frien-dolphin". This robot has camera in front and understands what needs to be done by recognizing human movement (pre-programmed – such as hands in front means Stop). 
In the regional contest I saw, Frien-dolphin won the first place on tournament (speed-base), it was stable and fun to watch. This robots greets and spins just to amuse audience, just like real dolphin's show!
As I've watched RoboCon on TV for many years, it has been my dream to visit RoboCon backstage. So I was really happy to actually go there and felt the heat of real RoboCon. It was so exciting, and also I was moved by their creativity and passion towards their own robots.
My article for Weekly Asahi Gunma was published in November and it featured Gunma Kosen's challenge toward regional RoboCon. (They were great, 2 teams from Gunma Kosen made to semi-finals.)