Dear Diary: Trip to Budapest
2017/10/24
A few weeks ago, I visited Budapest, Hungary for the first time.
Night View
I arrived in the evening and Budapest looked very dark to my eyes; Smoky sky, glimmer street lights, tired looking walls, thin bright light coming from the gap of huge doors…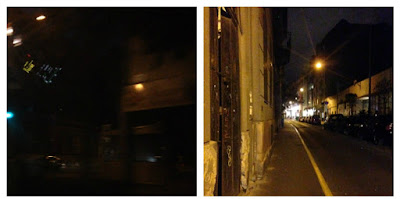 Watching its night from the taxi, I felt like watching a really heavy and closed love story movie. 30 minutes ride was not long enough. Fascinating view.
Fast
There's no direct flight to Budapest from Japan, so I flew in via Helsinki.
When a Mexican boy sitting next to me found out that I was heading to Budapest, he kindly gave me some advice. "Since you're used to the safety level in Japan, you'd better avoid all public transportation, taxi and night walking in Budapest." This makes me scared and I followed them for a while, but eventually broke them all. (But I didn't take or walk alone after 9pm, as a basic rule for girl's solo trip.)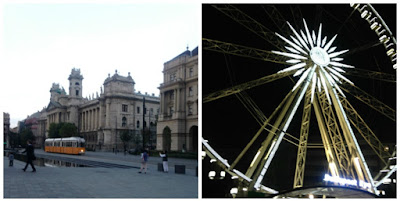 Tram was nice and bus was easy. Metro was tricky though. Or I should say "a way to get to the metro platform" was tricky. Their escalator moves so fast (at least 3 times faster than Japan's) and is very steep (felt like 70 degrees) and so long (felt like forever). Basically this freaked me out and I decided to avoid them if I could.
And their ferris wheel moves quite fast too.
Street
Paul Erdős, John von Neumann, John Kemeny… Because there are many geniuses from this country, Hungary was rumoured to be a place where Martians live.
Not sure if this is true, but I spotted some suspected descendants while I was doing subtitle for two Hungarian documentaries which revolve around tech/science.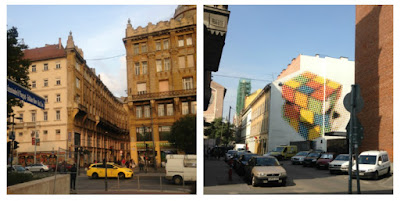 Some time ago, I read a lovely story about "Gömböc" which was proven by Hungarian scientist, and there was a remark that their complex language might have something to do with their intelligence.
I don't know. I couldn't find any lead on this trip anyway.
Here are the photos I took while I was walking around the city.
16
Took no.16 bus to go Buda side…
The Door
When you travel abroad, there's always a moment you realize or re-realize that you're in a foreign country.
In Hong Kong, it was when I lined up for a taxi. In England, it was when I saw their very simple signage (because they don't need to put anything other than English) And in Hungary, it was this door.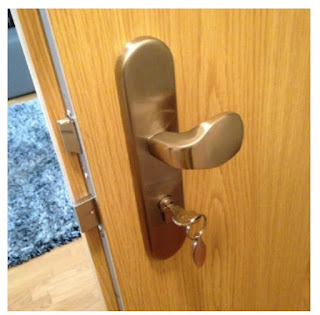 I had such a tough time unlocking the door of my hotel room. Never seen this type of lock before (turn 3 times, turn a bit more to unlock then turn back to remove) and I spent good 10 minutes trying to turn the key right and left, push and pull the door. Eventually and luckily other guests passing by helped me opening. It took 2 days to master unlocking/locking this door..
Never imagined myself feeling "Oh, I'm so foreigner!!" by a difference of door lock.
One Bedroom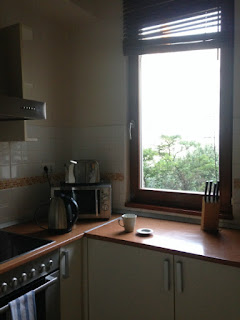 I stayed in an apartment hotel in downtown (district 6). They had a full kitchen and there was a supermarket nearby, so I could just stock up and heat the soup and make toast or sandwich when I woke up in the middle of the night. I love the time like this. Travelling without a need to quickly recover from jetlag is luxury.
It seems like this type of apartment hotel is quite common in Budapest. When you look up in booking.com, you will see plenty of them and they offer more spacious room and better location with cheaper rate than hotels. Now that Airbnb is getting popular, people are rushing to renovate the room to make some profits in foreign currencies, I heard. Indeed, buildings near the hotel were almost all under repair.
From my balcony, I could see a little patio and Mexican ladies playing poker all day long.
Postcard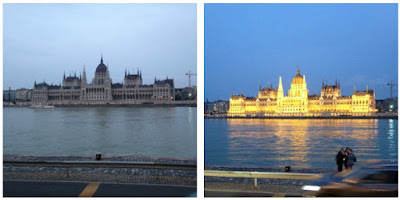 Dark streets and a very bright building.
Seems like they don't have a master lights-on switch. (it lighted up gradually)
This contrast reminded me of the history of this country.
It looked like a giant hologram.
People gazing this scenery looked like cinderellas who dream about a ball, and that was lovely view.
On my way back to the hotel room, I saw the world most beautiful McDonald from a tram.
The Pub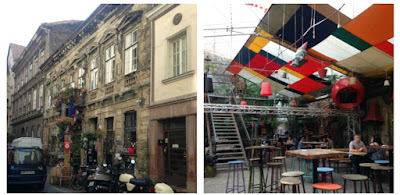 This is Szimpla Kert, Budapest's well-known ruin pub.
Instead of renovating old abandoned building, they use the building as is for bar and cafe, etc. All the sections were decorated with lots of junks, and created very unique atmosphere. Cool and kitsch, felt like sneaking in streetboys' hidden hangout spot.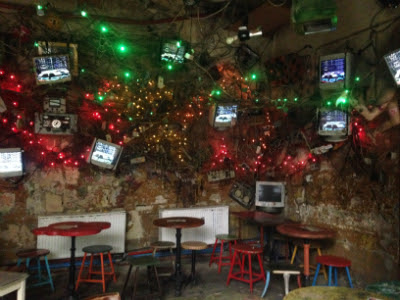 If you watched "Moleman 2" (documentary about demoscene culture) you might recognize this view. This place was used to film its interview and Szilárd, a director of this film mentioned in my interview as a recommended spot in Budapest.
Szilárd kindly took some time to see me while I was in Budapest, and we could talk over a cup of tea in this place. It was one of those "Life is funny" moments for me, and I was very happy to finally meet him and say thanks to him in person. (My interview with demosceners started because of this film.)
Read about Demoscene culture and "Moleman2" documentary
Cake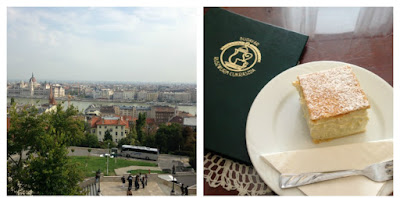 Krémes.
Ever since I read an article about this cake, I'd been looking for an occasion to try. The article says something like "there are so many great cakes in Hungary, yet Hungarians in fact love this very simple cake the most."
After carefully examined several guidebooks and websites, I decided to try at Ruszwurm near the Matthias Church.
Smooth vanilla creams are sandwiched by crispy puffs. Timeless combination. And.. mmmm… can't go wrong with it.
Best of Budapest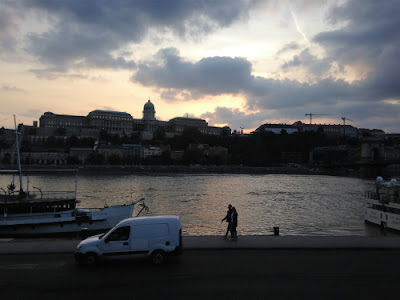 I stayed in Budapest for 2 days. It was obviously not long enough to explore the city, but at least I could stand on their land, smell the air, witness their morning to night, taste their food, see what and who I wanted to see. It was fulfilling trip, and it certainly expanded my horizon.
This is the view which struck me the most in Budapest. Too bad it looks really flat on the photo, but actual view had indescribable depth. It was so beautiful that I could gaze this for hours… Among many others, I must say this was my best of Budapest.
Köszönöm Szilárd and Gargaj for helping and making my trip more fun. And thank YOU for reading my travelogue till the end.