Tokyo Demo Fest 2013
2013/02/17
Last Sunday I went to Tokyo Demo Fest 2013!
Tokyo Demo Fest is Japan's only demoparty, and it was their third time. They have been expanding its events and venue every year… (10 years later, they may do it in Tokyo Dome, we may never
know…)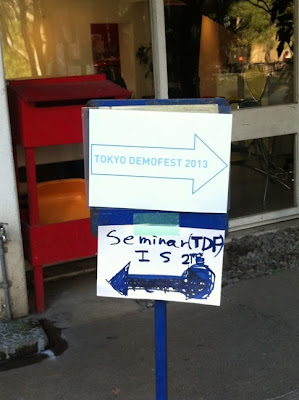 (For someone who's wondering what demoparty is… first of all, rest assured that this has nothing to do with protesting activity. It's a place for presenting computer music/graphics/programs and something combined them all (it's called 'demo') created by amateur(s) and mingling. Though they use very very advanced technique, 'demo' can be enjoyable for anyone because most of them looks like cool music video or short movie… and that's why I was there. If it's a no-laugh jargon-only nerdfest, I don't think I'm allowed to enter the venue… I buy computer by color and design! …To learn more, I recommend this documentary..)
Anyway, no matter how much I've read and saw on video about it, it was the very first demoparty for me to join. For weeks I've been excited and worried about it in fact; how's the venue's mood will be..? what if people find me that I'm tech-idiot.. do they chuck me out..? are people nice or mean? it's a 'party', should I wear a dress? do I have to scream Amigaaa? but when..? etc etc…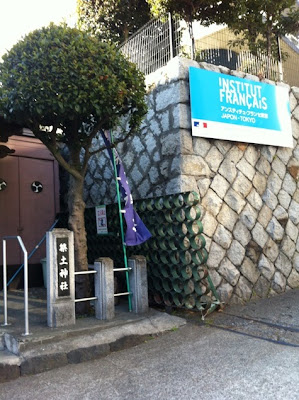 Here's the venue of Tokyo Demo
Fest 2013. Institut Francais in Iidabashi. I like the fact that there's little
shrine next to French building, this represent well about this franco-nippon area.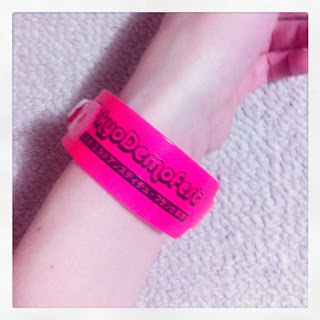 At the entrance they put pink
handcuffs that "once you put, you can never take it off'
The day I joined was Compo day (2nd day), and the venue was packed with people and heat!! Not sure it was because of the people's excitement or heat from the computer but the windows got fogged 😀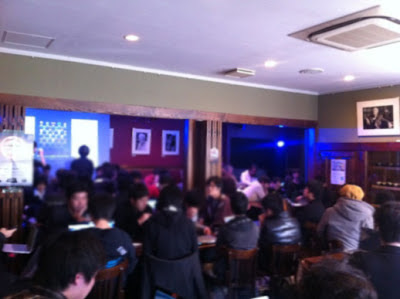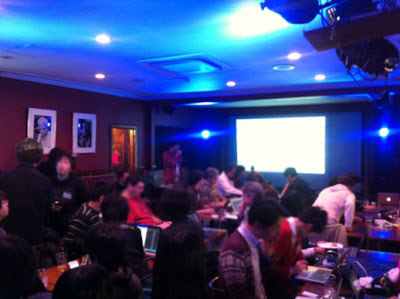 Checking the past demoparty journal, I
personally relate demoparty with pizza/beer/cola. Here in TDF, the venue is
normally a proper French restaurant, there were many kinds of drinks, cakes,
sandwiches and pizza. According to Umeboshi-san who conquered almost all the
menu, "Pizza and Croque-Monsieur got very rich cheese taste and it was delicious. For the cake 'Far Breton', it was quite good for raisins fan like me. It had light sweetness." (Ahhh, it was such a big mistake not to have
pizza on demoparty…)
Spending some time to find a seat and then looked around, it was very interesting view: I can hear Japanese but doesn
'
t seem like we
'
re in Japan. (so many guests from other countries!) People are all opening their laptops and chatting, smiling each other. When I look up, there
'
s a guy standing with an unidentifiable 3D object…:) No matter what they do (if you ask, the answer is always surprising), it seems like they use
'
demo
'
as a common language and having good conversation. (And they also communicate with code!)
I also had good time chatting with other people, one of the people I shared a table with was "ji" who actually released his first demo at TDF2013. He said he did all-nighter to finish it, but he looked so refreshed 🙂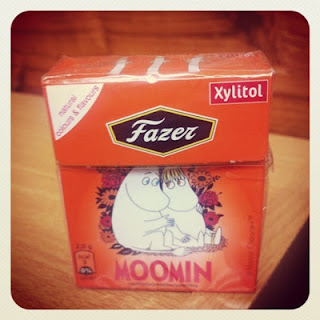 Moomin candy I got from gentleman from Finland. 
D'aww… so cute.. I still can't open it… (thank you!)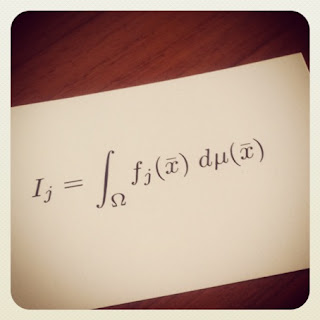 Name card I got from Syoyo-san (he gave a seminar about aobench.)
I have no idea what this means, but to me this looks so cool as a design!
(no name or anything, just this equation!)
And it's Compo time! Everyone focus on the big screen…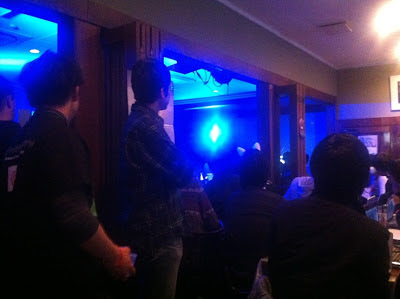 The moment I saw the first demo on the screen and people started to scream, I felt "that's why demoscene doesn't die". (It's that excitement you feel when you hear the first sound at live concert…!)
It's hard to describe, but suddenly I remembered some words of demosceners about demoparty and felt 'oh now I understand what you mean'. I know it's stale comments but it does make difference when we see demo on big screen with many people.. this power and this atmosphere of demoparty must have been the engine of "demoscene"…
Quite a lot of people in the venue told me that past TDF had been more session-oriented study meeting. Even at the compo, they tend to appreciate it quietly, while people at European demoparty express what they think very directly. (hmm, national traits??) However in TDF 2013, with more than 120 people signing up, they said that the atmosphere was very close to European party.
As far as I've seen, it wasn't that quiet at all 😀
Japan is known to be a country which is good at making its own culture out of something.. so as more and more domestic and international people participate in TDF, it may build up unique 'Japanese demoparty' style. (I don't know… like having pizza and onigiri in the party?? no no, not just that…:D)
Here's what happened at Tokyo Demo Fest. For more details, please check their official website.


(1st Day)


– Seminar "Let's make media art with Unity" by Hiroki Omae
Unity was one of the official sponsor of TDF.


– Demo production workshop (Unity) by Gyabo, Tomohiro
Workshop for demo making beginners. Some of the new demosceners were born from here.


– Seminar "Programming demos in .NET/C# and Direct3D11" by xoofx/Frequency
He shares his presentation slides in here. Though the seminar was given in English, people seems to be understood from his slide and code. (I saw a comment that one of the listeners are convinced to switch Windows model after this.)


– Demoshow
Using the venue's movie theater facility, they showed some of the fine pieces released in the past. Imagine watching demo with the movie theater screen and speaker…
– Liveact
DJ + VJ event by RTX1911, Gorakubu, Seitokai. They used their improved live coding tool for VJ.


(2nd Day)


– Seminar "Agni's Philosophy ~The Future of Realtime CG Imaging Technology~" by Yoshihisa Hashimoto (Square-Enix)
So called "high-end game development"…  I heard they played with their code on laptop to change charatcter's color.


– Seminar "Extreme aobench" by Syoyo Fujita
This was where that unidentifiable 3D object kicks in. Seminar's video is here.


– Seminar "Hitchhiker's guide to a demoparty" by Zavie/Ctrl-Alt-Test
He gave an English lesson about how to communicate with sceners at European demoparty. Not sure what exactly he taught because I wasn't there, but the TDF twitter feed was flooded with the phrase "one beer please". (Update: Video was uploaded!)


– Compo (Combined Graphics, Combined Music, Wild, PC Intro, PC Demo)
I've heard that "Wild"demo can be anything, but it was way beyond my expectations. Someone shouted "this is too wild!" during the compo… yeah… it was… 🙂


And the compo's result is Here!So many entries! (Files are here)


Super cool! Congratulations!
Though it was very short time, I was really happy and had so much fun at this party! 'Greetz' to lead organizer

Kioku from 

SystemK

 and all the other staffs who contributed to this party! Thanks very much for organizing and bringing this culture in here! I'm feeling that Golden age of Japanese demoscene is yet to come!
If you want to know more about Japanese demoscene, there's a portal site called Demoscene.jp Here, JP sceners publish some useful information/document for fellow sceners (in Japanese though).
And here's the TDF2013 report from Zavie, who has been joining and organizing this party from 1st edition.  It's interesting to see how this party evolved and the comparison with the European parties. 🙂
…
This was also my first time to see the people who I've knew through Twitter. It was fun but very strange feeling! It's definitely "Nice to meet you" situation but I felt like I know them for a long time! (It's a bit different from meeting blogger or author!) I'm sorry if I said something really blunt since I was too excited… it was a pleasure seeing you all!
———————————————————————-
– Interview with Japanese demoscener q from nonoil/gorakubu is here.

– Interview with Szilárd Matusik, the director of "Moleman 2" is here. This is the documentary which strongly motivated me to join demoparty. (Thank you Szilárd and team!)